Define Ponzi Scheme: Charles Ponzi
The definition Ponzi scheme comes from Charles Ponzi who in 1920 swindled numerous investors totaling $420,000 which in today's terms is nearly $5 million American dollars. To define Ponzi scheme refers to using monetary investments acquired from new investors and give them to earlier investors instead of from the actual money made from profits.
Who was Charles Ponzi?
Ponzi was an Italian business man and American con artist. According to records, he was born to a well-to-do family in Parma, Italy, an Italian city in the Emilia-Romagna region. Ponzi attended the University of Rome La Sapienza. In 1903 he arrived in the United States via the S.S. Vancouver. He apparently had only two dollars in his possession because he gambled his life savings away during the voyage to the United States.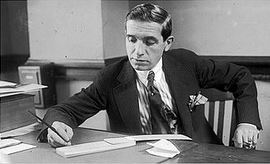 Ponzi: The Early Days
He began working his way by taking on odd jobs throughout the East Coast. On one particular job, he worked as a dishwasher in a restaurant, sleeping on the floor and gradually was promoted to waiter, but was fired when he was caught shortchanging the customers and stealing from the restaurant.
In 1907 Charles Ponzi fled to Montreal and found a job working as a bank teller for Banco Zarossi. Ponzi worked with incoming Italian immigrants setting up bank accounts and was paid 6% for every new bank account opened. Ponzi charmed his way and rose the corporate ladder to bank manager. However, he later found out that the bank was doing it's own early version of a Ponzi scheme by paying investors not from profit earned through investments, but from money deposited into new bank accounts. The bank soon failed and Ponzi fled to Mexico for a significant portion of the bank's money.
Later he was caught by the police and arrested after cashing a check for nearly $500 that he forged from one of Zarossi's former customers, Canadian Warehousing. He spent three years in the St. Vincent-de-Paul Federal Penitentiary. After he was released, he returned to the United States in 1911 and became involved in a scheme for smuggling illegal Italian immigrants into the United States. He was caught and spent another two years in a prison in Atlanta, Georgia. While in the Atlanta prison, Ponzi befriended Ignacio "the Wolf" Lupo, a mobster and found a role model by the name of Charles Morse who was a wealthy Wall Street businessman and swindler. Ponzi made a point of always learning new ways to cheat the "system" and gain wealth through taking advantage of others.
Ponzi: Started Securities Exchange Company
After his release from prison, Ponzi met and married his wife Rose Maria Gnecco in 1918. Ponzi one day received a catalog from Spain that had an international reply coupon. He had not seen one before and began inquiring about it and discovered a weakness in the system. The postal reply coupon would be sent to someone and that person could send something back in return and use the postal reply coupon as postage. The postal coupons could be traded in for postage stamps equivalent to the cost of postage within the country in which it was exchanged. The weakness is with the difference in cost of postage stamps in different countries. You could purchase postal reply coupons in a country in which they were inexpensive and exchange them in another country for which you could get top dollar for them, thus making a nice profit. This form of business is called arbitrage which is completely legal.
He used this as a basis to start up his own company called Securities Exchange Company. He was able to obtain initial investors rapidly and quickly became very wealthy. He was continually receiving new investors at incredible speeds and thus he was easily able to take money from the new investors and pay the earlier investors telling them that they were profits from their investments, which they were not.
The Fall of Ponzi
Clarence Barron, a financial journalist who headed up Dow Jones & Company began researching and investigating the Ponzi money making scheme and came to some alarming conclusions. In order for the profits to be what they were, there would need to be 160 million international postal coupons in circulation and there were only 27,000. Later Ponzi's scheme reached the attention of Daniel Gallagher, the District Attorney General of Massachusetts who was able to commission Edwin Pride to audit the Securities Exchange Commission.
To head off the increasing heat Ponzi was receiving, he hired a publicity agent, William McMasters. However, McMasters became suspicious very quickly when he discovered incriminating documents proving that Ponzi was "robbing Peter to pay Paul."
Ponzi's Arrest
On August 11, 1920, the newspaper published an article about the discoveries and included his past involvement with the Zarossi bank scandal and the check forgery. Everything was laid out in this article and Ponzi scheme was now out in the open. Ponzi surrendered to federal authorities the day after the newspaper printed the article, August 12, 1920. Ponzi was charged on 86 counts of mail fraud.
It is estimated that Ponzi's investor's lost $20 million in 1920, which is the equivalent to $225 million in today's market.
And thus, the term Ponzi scheme was born and is still used today.
Looking for a Legitimate Way of Making Money Online?
If you are in search of a legitimate online opportunity allowing you to stay home and be there for your family and children, check out my number one recommendation for learning how to make money while in the comfort of your home – Wealthy Affiliate.  This is an open education project whereby you learn how to start an affiliate marketing business that you can do without paying anything.  That is right – it is free to join.  No credit card required.  Check it out for yourself today and discover a new and honest way to earn financial freedom.