PRODUCT NAME:  ClickBank University

Overall Ranking:  7 out of 10
Price:  $47/month
Upsells:  $297 per year for the Website Builder from ClickBank and another $97 one time fee for the Advanced Master Class
Owners:  Adam Horwitz and Justin Atlan  
Website:  www.clickbank.com
MY VIDEO REVIEW OF CLICKBANK UNIVERSITY
INTRODUCTION 
ClickBank University is an online learning platform that has been around for 17 years where you can either be trained as a vendor on ClickBank and sell your own digital products or you can be trained to be an affiliate and promote other people's products on your own website.  If you have your own digital product such as an e-book, online training or other similar product, ClickBank University can be a great way to get the help you need in learning how to market your product.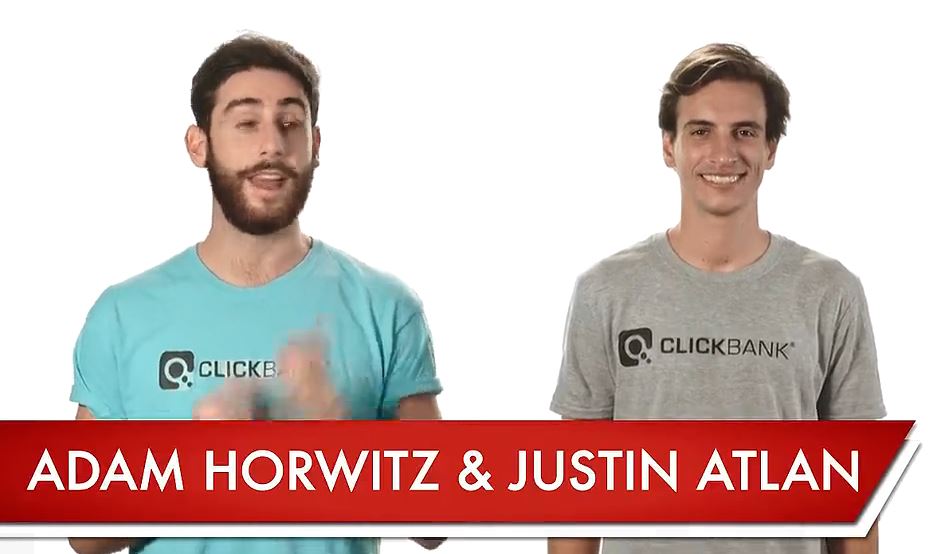 Adam Horwitz and Just Atlan are the creators and educators of ClickBank University.  They provide the training.  There is a beginning and advanced course.  The beginning is included in the $47 per month, but in order to access the more Advanced courses, you have to purchase their upsales.   With the affiliate training, you are shown how to promote ClickBank products and only ClickBank products.
HopLinks
You are shown how to use the HopLinks to promote ClickBank products.  HopLinks is a name specific to ClickBank.  It is was ClickBank refers to their affiliate links.  One nice feature with the HopLinks is that they are easy to create without using long complicated affiliate links that have a long string of random numbers in them.  The easy format of the HopLink is as follows:

You simple enter your ClickBank nickname or username and than the username of the vendor you wish to promote.  There is no need to copy and past long confusing strings of numbers and letters.  That is one thing I believe is unique to ClickBank, because as an affiliate marketer, I do not like having to use those long ugly URLs.  I have a plug-in for my WordPress site called PrettyLink that allows me to re-create those ugly affiliate links into "pretty" links, but with ClickBank that is not necessary.
PROS / CONS
Pros

Both ClickBank Affiliate Marketers and ClickBank Vendors can benefit from the training offered at ClickBank University.
Has been around for 17 years, so you know it is legitimate.
HopLinks will take away the frustration of dealing with long-stringed numeric affiliate links.
Justin & Adam are active within the platform.  Many training programs of similar nature, the creators are not present.
Video tutorials are easy to follow with some PDF guides to help.
Live Weekly Webinars from experts covering different topics.
Discounts on yearly membership fees
ClickBank used to have limits on the number of tutorials you could watch per week, but that has recently been lifted to allow students to move at their own pace.
Huge database of recorded webinars to listen to.
University Talks – safe place where students can learn from more experienced and successful affiliates and vendors.
They are honest in telling new students that this is not a "get-rich-quick" scheme and they will need to work hard and be patience before they begin to see results.
Easy drag-and-drop interface to make building your pages easier.
Each video is between 3 to 5 minutes long so you are given enough information to learn a new skill, but not overwhelming.
Offers a 60-day money back guarantee if you are not satisfied.

Cons
You can only promote ClickBank products through their training.  They do not show you how to promote products that are not with ClickBank.
There are many expensive upsells making the program highly costly for what you get.
There does not seem to be any detailed training on Search Engine Optimization (SEO) which is a critical aspect of building a website and growing an affiliate marketing business.
There is no LiveChat in which you can get immediate assistance.
They used to have a 1-week trial period for a $1.00 but they did away with it and now you have to buy into the full program without getting an idea of what you are getting for your money.
WHO IT IS FOR?
ClickBank University is for two different types of people who are wanting to build an online business.  The first type is for those individuals who wish to be a vendor and sell their own digital product, such as an e-book, online tutorials, etc. The second type of person that ClickBank University targets is the affiliate marketer, the person who wants to promote other people's products.
TRAINING/TOOLS OVERVIEW
The training you receive at ClickBank University is conducted by Adam and Justin and only Adam and Justin.  Sometimes it can be helpful to get the perspective of another person because everyone has a unique teaching style and philosophy and not everyone learns the same way.   Many newbies to affiliate marketing need some hand-holding and to be spoon-fed.  ClickBank University does not cater to those individuals.  The training is not as straight-forward and step-by-step as I have seen with other programs.
SUPPORT
Other programs that I have experience with have a strong community involvement, because it is helpful to bounce off ideas with other members and ask another the more experience members about things that may be confusing.  This kind of community support is essential in achieving success, because without the support and encouragement of others, you are likely to give up.
Technical support seems to be inconsistent to many of the reviews I have read.  They seem to come from other students instead of the creators, Adam and Justin.
FINAL OPINION/VERDICT 
Over time, with all of their upsales, it can cost you well over $1,500 per year.  Most people cannot justify that type of expense for what you get.  That being said, I do believe ClickBank University is a legitimate online opportunity.
My personal opinion is ClickBank University might be a good choice for you if you are a vendor wanting to sell your own product, but if you are wanting training on how to start an affiliate marketing business, I would recommend you look more closely at Wealthy Affiliate.
---
Thank you for checking out my review today of ClickBank University. I would love to hear from my readers. Please leave a comment or question below and I will respond shortly.