Introduction to Selecting a Twitter Username
On Twitter, your username, or handle as it is called, is your identity. My recommendation is if you can, sign up for Twitter by using your name or a variation of it as your username. This is, of course, assuming someone else has not already grabbed that particular username. This can be difficult if you have a common name. For example, if your name is Jen Smith, you may want to pick a Twitter username such as @jensmith or @jen_smith, and again, that is assuming it is not already taken.
I chose steph_1970 for mine – it is my first name and the year I was born. I selected it some years ago when I was still in my thirties. Now that I am older and in my forties, I am second guessing that idea, but oh well! 🙂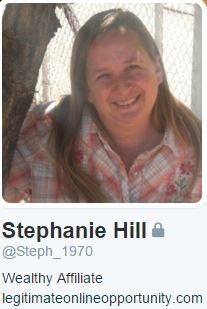 A Mention About Twitter Usernames
Twitter usernames typically appear with an at sign (@) before the name, because that is the way you refer to other users on Twitter. However, when you are actually selecting a username, the @ is not part of it. The only characters you are allowed are the following:
uppercase and lowercase letters,

numbers,

underscore character ( _ ).
Same or Similar to Your Own Name
A good Twitter username is the same or very similar to your own name. This helps to establish branding online and build trust amongst your followers. If users have already claimed those names, try to add an adjective or descriptor such as @MarketerJen or @EntrepreneurJen. If you prefer for your followers not to know who you are, you can select a name that is a bit more generic. You can select a name, for instance, that is aligned with your domain name.
For example, I set up my Twitter account long before becoming an online marketer, but if I were to do it now, I might go with @LegitimateOpportunity because of that is the name of this website.
You also can use a handle that you have established on other websites. For instance, you may want your username to match your e-mail address. If your e-mail address is CatLover1970@whatever.com, you may decide to use @CatLover1970 as your Twitter name.
Last Name as Twitter Handle
Many people have a unique last name and therefore decide to use their last name as their Twitter handle. If you choose to use only your last name as a username, you may find yourself without a first name in the eyes of others. Again, this goes back to online branding.
Now, if you are in the military, then you are probably used to be called by your last name and this may be perfectly fine, especially if your niche is the military and you are branding yourself as a brave and honorable service member. By the way, if you are a service member, thank you for your service.
Using Your Business or Domain Name
I touched on this earlier in this press release and I will mention it again. You can use your domain or business name as your username and you can fill in that business or domain name in the Name text box on the Settings page for your account. However if you do, be sure to include your name in the 160-character "Bio" text box on the Settings page for your Twitter profile. It is all about branding and just like you will want to have an About Me page on your website, if you have one, you should fill in the Bio section of your Twitter account using your actual name.
Important to Note
Your Twitter username has power and influence on SEO which translates to how close to the top of a search results list you will appear in a search engine.  If you are using your domain or business name, consider using a valuable keyword as your Twitter name. Ranking is everything.
Friendly and Accessible Nicknames – Avoid Risqué Names
If you would much prefer to use a nickname rather than your name or your company or domain name, be sure to choose a username that is friendly and accessible.
On Twitter, you want people to respond to you, not be put off by a risqué or otherwise questionable usernames. I have seen some very questionable usernames on Twitter.
If you run into your Twitter pals at networking events or other real-life social situations, you may wish to make sure that you do not mind having your username written on your name tag or shouted out in a greeting.
Frustrating Thing About Twitter When it Comes to Selecting a Handle
The frustrating thing about so many usernames being taken on Twitter is that while new accounts are having to add numbers and underscores, most of the time the name they want is just a ghost account from 2006 with 0 tweets. I wish Twitter would have some type of policy for releasing the names of unused accounts.
Use a Short Twitter Username
My last tip is to use a short Twitter handle. Tweets are only 140 characters so when people are replying to you, if you have a longer name, you leave them less room for message content. Twitter limits your username to just 15 characters for this very reason.
---
I hope this tutorial was helpful.  If you want more training, consider joining Wealthy Affiliate.    They have an option which you can join for free (no credit card required).  You can upgrade only if you decide this is something you want to invest in further. 
Thank you for reading this tutorial. Check out my other tutorials here. Please leave comments and questions below.