This is an update from my original Miss Hosting Review.
PRODUCT NAME:  Miss Hosting (updated version) 
Overall Ranking: 90 out of 100
Price:  Basic Member $1.25 per month;  Professional Member $2.50 per month'; Ultimate Member $3.75 per month ( all plans must be paid in advance for at least 1 year) plus domain registration
Owners:  Alexandra Linnusta
Website:  www.MissHosting.com
INTRODUCTION
Miss Hosting is a startup hosting company headquartered in Stockholmn Sweden with a second office in Hollywood Florida ofering cloud-based shared hosting at a low monthly rate.   I did my original review of Miss Hosting three months ago based on what was available at the time due to Miss Hosting being in the startup phase.  I am pleased to write an update based on information I received from the Managing Director of Miss Hosting, Andreas Linnuste.
As with any startup company, it will take a little time to establish yourself in the area you are growing your business, especially when it is as competitive as web hosting.  Miss Hosting has been hard at work and dedicated to increasing their level of support, service and training.  They are based in Sweden/Europe and their focus has been to serve the European market so their support has not been available for the rest of the global time zones.  It is as of the writing of this review only available for European time, but anyone in the world can access it.   They are hoping to make their support available 24/7 sometime in the future.  Right now the hours of their live chat are from 2.00 am – 11.00 am and 1 pm to 8 pm European time.
Pros
Uses cloud hosting as opposed to the alternative of utilizing a single server.  Check with my original review of Miss Hosting to learn the benefits of cloud hosting.
Support personnel is bilingual in Swedish and English.
Can build one free website using their sister site Miss Site.com.
Miss Site – Create your own website in 5 minutes! – It's free
Uses WordPress which is the most common and the most popular web building platform available with thousands of templates available.
Offers numerous video tutorials on their cPanel interface in both low and high quality depending on your computer's ability.
Just launched a few weeks ago as of the writing of this review, Miss Hosting is offering a chance to test their VPS or a Dedicated server for free for 30 days. This is not a money back guarantee,. You actually get the server for free for 30 days without paying a thing.  Once the 30 days are up, the billing will start as usual unless you are not satisfied.
Low monthly rates starting at $1.25 per month for web hosting for the basic membership.  See price chart on original review of Miss Hosting.
Has a 45-day money back guarantee!  Most companies provide a 30-day money back guarantee.
Cons
Does not offer 24/7 support (as of the writing of this review).
This is a brand new start-up company, thus, no information is available yet from BBB (Better Business Bureau)
Minimalist website.  There is not much information available on the website other than sign-up. but it does seem to be expanding and thus, I am sure content will continue to grow as well.
WHO IT IS FOR?
Cloud hosting is ideal for the following:
small company
an entrepreneur
a web designer or someone who has a niche site they wish to promote
It permits your website's resources to be available real time instead of relying on a single server.  You have the assurance that if one of the data centers goes down, resources from the remaining data centers can be pulled, thus your website remains live and has fewer down times.   Miss Hosting is an example of a web hosting company which practices cloud hosting. thus, giving you all those benefits.
TRAINING/TOOLS OVERVIEW
A few weeks ago, Miss Hosting has added YouTube videos to help their clients.   As of the writing of this review, there are currently six YouTube videos.  It is probable that more will be added.  The videos are visual, but not audio.  This may be due to the fact that Miss Hosting is based out of Sweden/Europe and thus, want to make their videos understandable by both Swedish and English speakers.
The video below shows you how you can build a website in 60 seconds in WordPress using Miss Hosting cPanel login.
SUPPORT
There is email, phone and limited live chat support available.  You may call the number listed on the website or send them an email.  As mentioned above the hours of the live chat are as follows based on European time:
2.00 am – 11.00 am
1 pm to 8 pm
There is also an SEO (Search Engine Optimization) FAQ page located here.
PRICE
The price is one of it's largest selling points.  I compared what you can get with Miss Hosting as opposed to another web hosting company that also utilizes cloud hosting and for the same price of what you would pay for Miss Hosting for an entire year, you would pay a similar cloud hosting company hundreds of dollars more per year.  As mentioned above, the three different hosting packages are for hosting your website only.  That does not include domain registration.  To test how much a domain costs, I performed the following pre-purchase analysis.   The following chart shows the price for different domain names based on what extension you want: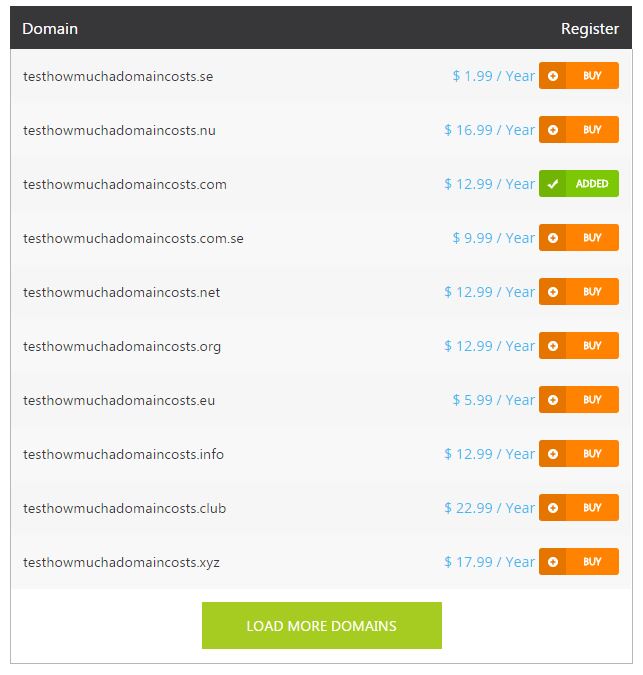 The prices you see listed are comparable to other companies in which you could purchase a domain.  Since a .com extension is the most common, I selected that one.  For a .com extension of this particular domain Test How Much a Domain Costs  you will be pay $12.99 per year.  You might be able to find something a little cheaper, but most likely this a fair price.
FINAL OPINION/VERDICT
When I first wrote my original review of Miss Hosting, I gave them a half-and-half rating as they were brand new to the web hosting industry.  However, I was impressed with how Miss Hosting is continuing to grow and expand their services, support and training.  This company is definitely a legit company and I am sure in the next few months more support will be added to include 24/7 live chat.

My personal recommendation is if you wish to start an online business of affiliate marketing, first sign up for free at Wealthy Affiliate for their training.  When you are ready to have your own website without a siterubix.com domain, be sure to visit Miss Hosting to purchase your domain, because domain registration is not available through Wealthy Affiliate.  If you want to host your new website at Wealthy Affiliate you will need to transfer your name servers from Miss Hosting.   However, you can also choose to host your site through Miss Hosting and just use Wealthy Affiliate to get your training in affiliate marketing, SEO and web design.
---
I hope you find this review helpful.  Please leave comments below, especially if you are a customer of Miss Hosting and wish to add something, please do so below
Please review my affiliate disclaimer.