PRODUCT NAME:   Herbalife International
Overall Ranking: 30 out of 100 
Price: $49 initially to sign up, but has endless upsells going upwards to the thousands of dollars
Owners:  Founded by Mark Hughes in 1980. He passed away in 2000 from mixing his anti-depressant medicine with an excessive amount of alcohol. His alcohol level was reported to be  It is ironic and very sad that someone who owned and started a natural health and wellness company died from doing something that was extraordinarily unnatural and unhealthy.   The company continued to see profits after Hughes death and in 2002, the company was acquired by J.H. Whitney & Company and Golden Gate Capitol for the amount of $685 Million.   In 2003, Michael O. Johnson joined Herbalife as the CEO following his 17-year long career with Walt Disney Company and the president of Walt Disney International.
Website:  https://www.herbalife.com/ 
INTRODUCTION 
Herbalife is an American multinational multi-level marketing (MLM) company which develops and distributes personal care products, weight loss and nutrition supplements, weight management and sports nutrition products.  Herbalife had a reported earning of $3.625 billion in 2014 which was a 21% decrease from 2013.   It is headquartered in the Cayman Islands.  As of August 2015, Herbalife internationally operates and distributes their products to 95 different countries.
The way an MLM structure operates is people make commissions, sales and bonuses from selling to their downline which are the people they recruit and bring into the structure.  However, recently as of March 2014, Herbalife has been under investigation from the U.S. Federal Trade Commission. Herbalife has been the focus of a serious hedge fund battle. Pershing Square Capital Management, ran by Bill Ackman, states the company is a "pyramid scheme" which is against the law in many countries to include United States, Canada and many European countries.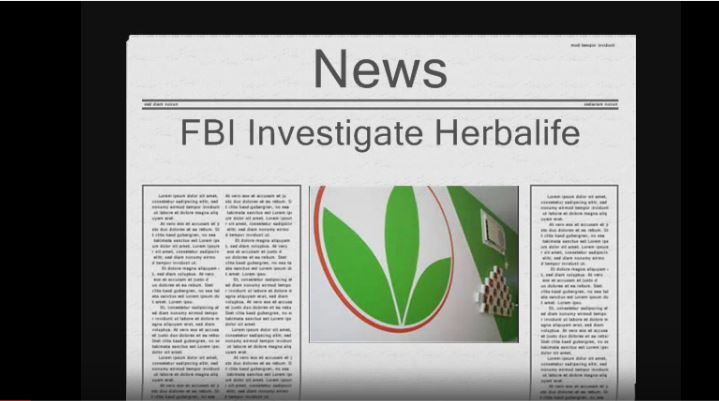 A pyramid scheme is defined as an unsustainable business approach which promises unsuspecting participants services or huge payments, mostly from recruiting other people into the scheme instead of being able produce sales of products or services to the general public.  Another words, if a company makes more money from the recruitment of new people who are forced to buy their products in order to become part of the scheme than they do from actually selling and distributing the products to the general public, then they are known as a pyramid scheme.   The term ponzi scheme has also been referenced in relation to the open investigation of Herbalife.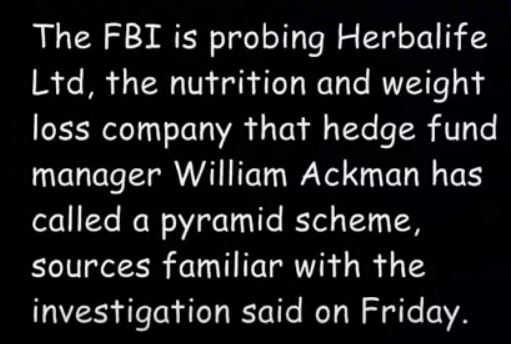 In a pyramid scheme, an organization compels individuals to make a payment and join. In exchange, the organization promises its new members a share of the money taken from every additional member that they recruit. The directors of the organization (those at the top of the pyramid) also receive a share of these payments. For the directors, the scheme is potentially lucrative—whether or not they do any work, the organization's membership has a strong incentive to continue recruiting and funneling money to the top of the pyramid.
In 2011 after I was laid off from my position as a librarian, I was collecting unemployment and looking for ways in which I can earn money.  I was desperate, as a single mom with two kids, I needed to find ways to make money and quickly.  I was looking online because I had degrees and computer experience.  Somehow I ended up getting suckered into Herbalife.  I first was asked to give $49 and than there were more upsells and then I started receiving numerous phone calls from a gentleman named Jim who according to him was my upline.   I did not know anything about MLM marketing.  After being put through some super high pressure sales calls from Jim and the one above him, I began to become highly suspicious.  Being a librarian, I started doing my own research and I found hundreds of articles from credible sources about the legitimacy of Herbalife.  I was then asked to buy nearly $4 thousand dollars worth of Herbalife's products – What?!  I was collecting unemployment and looking for new job prospects, not scams and "get rich quick schemes" which is what Herbalife promises to its new investors.  They were pressuring me to take out loans from banks and max out my credit cards to purchase $4 thousand dollars worth of their products. Fortunately, I wised up before they got my money but do be warned and do diligence by researching any opportunity in which it sounds too good to be true.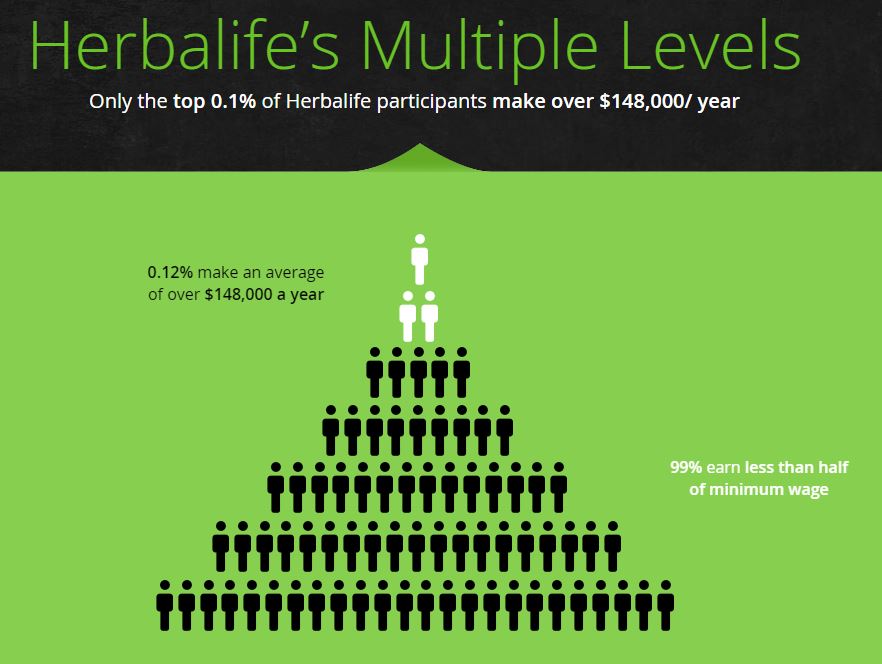 PROS & CONS
Pros
Cons
Under current investigation from the FTC, SEC and FBI for evidence of operating under a pyramid and ponzi scheme.
Must spend thousands of dollars upfront
False promises of "getting rich quick"
Enormously risky
Must recruit and make others spend thousands of dollars too on the products
Only a small reported percentage of the products are actually sold to the general public. The majority of the products are sold through recruitment of new investors.
Has reputation of preying on low income individuals, especially Hispanic and minority groups.
WHO IS IT FOR?
This product is for someone who wants to work from home and is exploring ways to achieve financial freedom.  It is an MLM firm in which you can set your own schedule and be your own boss.  However, keep in mind, the SEC (Securities & Exchange Commission) warns everyone of how many MLM companies are actually pyramid schemes.
TRAINING/TOOLS OVERVIEW
I spent some time in their website and sign up platform and there did not seem to be much training nor support.  The gentleman who was actively attempting to recruit me, Jim, would pretend to try and help but when I asked to speak to someone in their technical support department, I was told, there was no access to a technical support staff member, which had red flags going up.
I was looking for a training portal where I could listen to tutorials and take notes and I did not see anything like that.
SUPPORT
The only "support" I ever seemed to get was from Jim who did not seem interested in letting me talk to anyone other than himself or his upline.  I was looking for a broader team-based community involvement business model and not one in that I could only reach out to one person. I wanted something where I could reach out to other individuals 24 hours a day and find assistance and help and support.  I wanted to see for myself how successful was this company.  I did not want to take one stranger's word for it.  The only place I have been able to find something like that is Wealthy Affiliate.
FINAL OPINION/VERDICT 
My final opinion and advice is to stay away from Herbal Life International.  With the current investigation from the Federal Bureau Investigation, Federal Trade Commission and the Pershing Square Capital Management, it is best to look elsewhere for ways to earn a legitimate online opportunity. Do your research on Herbal Life and see for yourself how this company has lost it's credibility over the years and will probably soon be out of business completely and forced to shut down pending the results of the investigations.  The ones I feel very sorry for are the people whom have been taken advantage of by Herbal Life.  If you are one of those individuals, please leave your comments below, because I would love to hear from you.
If you are searching for a way to build a legitimate online business, one that is that under investigation by the FBI and FTC, check out Wealthy Affiliate.

---