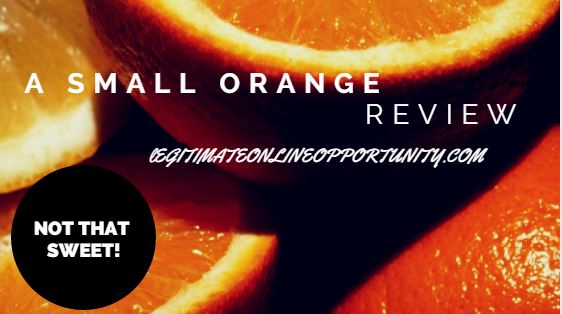 PRODUCT NAME:   A Small Orange Web Hosting
Overall Ranking:  4 out of 10
Price:  Tiny Plan: $2.92 | Small Plan: $5 | Medium Plan: $10 | Large Plan: $20
Owners:   Endurance International Group. Douglas Hanna bought A Small Orange in 2010 but left towards the end of 2014 and the company was acquired by EIG
Website:    https://asmallorange.com
INTRODUCTION
One of the things that makes A Small Orange (ASO) unique is it's branding.  Their name is unusual for a web hosting company.  When you first hear their name you might think that they are a product store – I know I did.  In addition to the unique name, ASO has a bright, simplistic and colorful website.  The template they use is aesthetically appealing and draws you in.  It is probably one of the best well designed web hosting entry sites I have seen.
Dating its roots back to 2003, A Small Orange is headquartered in Durham, North Carolina, but was originally founded in Atlanta, Georgia.   Tim Dorr, a web designer by profession, founded the company but not long after he was bought out by Douglas Hanna who was the customer service manager at HostGator.  You would think that having someone who understands the importance of customer service would bring excellent customer service to ASO, but as I will get into, ASO has a poor customer service satisfaction rating, as I have read many reviews from very upset customers, especially around the end of 2015, Christmas time.  Apparently, many ASO hosted sites were down during the week of Christmas causing many unhappy customers to lose sales, visitors, clients and of course, lots of revenue.  There have also been reports of of ASO servers being down during other times of the year.  For every 10 reviews I have read by current or former customers of ASO, I have probably read eight bad reviews and maybe two so-so reviews.


I do not profess to be a know-it-all person when it comes to the web hosting field nor do I have extensive knowledge of the marketing and technical sides of web hosting.  However, with my experience and background,  I feel confident in making a determination of whether a hosting company is a good one to go with or if you should consider a different route and for this, I do suggest you take a different route.  Check out my #1 recommendation.
A NOTE ABOUT WEB HOSTING COMPANIES OWNED BY EIG
Endurance International Group, who owns ASO, has been in the business of buying out a number of different web hosting companies.  The chart below shows all of the web hosting companies owned by EIG.  ASO is on the top row.  At first it might not seem like a big deal, but there are two problems that occur when a larger company takes over control of smaller companies within the same industry.  The first problem is that you end up having a monopoly.  Once a monopoly is in place, it can be difficult to get good customer service and the people purchasing those services wind up not having a choice and having to put up with whatever the company's policies and practices are, be it good or bad.  A monopoly takes the competition away from providing top-notch services to their customers.  The second problem is when all of these web hosting companies shown in the chart below all belong to one big conglomerate such as EIG, there is very little difference in how each of them is run.  You will get the same level of service no matter what web hosting you go with.  Another web hosting company owned by EIG for which I have written a review for is BlueHost. None of my other web hosting reviews cover companies owned by EIG.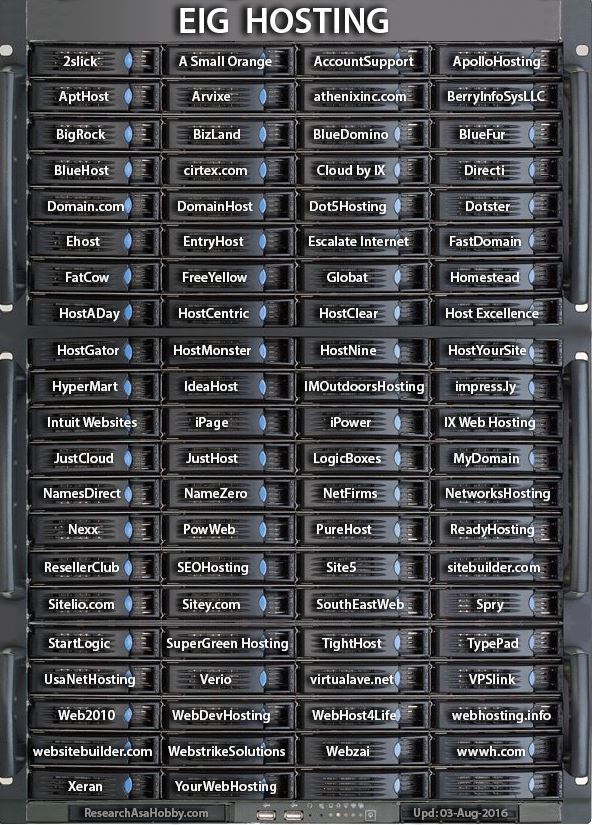 Courtesy of: ResearchAsaHobby.com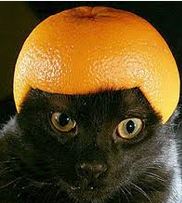 Another thing that EIG and all of it's web hosting companies it controls is doing is paying top dollar to all of their affiliate marketers.  They are encouraging all of their affiliates to promote their their products in exchange for paying out very generous commissions.  What this leads to is overselling and overloading.  More money is being spent on selling their products and less is being spent on technical and customer support, as evidenced by the reviews shown below.  You can read more about affiliate marketing here and my affiliate disclaimer.  You might be thinking why am I telling you this when I am an affiliate marketer myself.  The reason is because I care more about providing high quality honest content as opposed to selling my visitors products that they will later regret purchasing.
GIVING BACK TO THE COMMUNITY
One really positive thing I wanted to say about ASO is that they do have a program which gives back to the community by offering 501(c)3 non-profit and charitable organizations 10% off discount or a free small plan month-to-month, whichever the organization wants.  That was something that I really liked, because I am a huge believer in always giving back to our community and giving to charities.

PROS/CONS
Pros
They offer a variety of different hosting plans depending on your budget and your needs.  They do try and find the right package for you.
Competitive pricing for their plans
They do give back to the community, as illustrated above.
They do not try and sell you on all of the bells and wishes like other companies might do.   They do not oversell you on resources you do not need.
Unlimited email addresses for each domain which is nice because that way your employees or other involved party members can have their own professional email address.
There is a Live Chat feature directly off the website but I had to wait a few minutes when I went to inquire about something.

Cons
Only way to get technical support is through submitting a ticket and according to at least one review, they can take up to two weeks before they respond.
They have been reported to delete bad reviews from their Facebook page which shows a lack of transparency and ethics
They claim to have 99.9% uptime, but the reviews indicate otherwise.  Almost every review I read indicated a lot of downtime with very little help from technical support. See screen shots below from various websites.  And if your website is down, all other amenities and resources offered by ASO are pointless, because you cannot have a business without a website.  Any program or company that tells you otherwise is wrong.
No telephone number to call to get help unless you purchase a higher-end package.
They are owned by EIG and there are concerns with that, as stated above.
MANY BAD REVIEWS
I have taken multiple screen shots from a couple different websites to show you all of the bad reviews written about ASO recently.   The reason I have captured recent ones is so you know as of the writing of this article where they stand with their customers.  Two of them have today's date (the date I first wrote this article) February 3, 2016.  I know I have provided you with lots of different screen captures of ASO's bad reviews and you of course, do not need to read all of them, but you get the idea.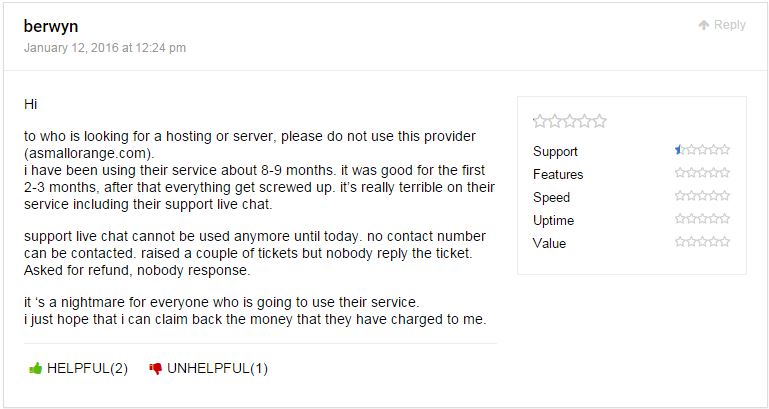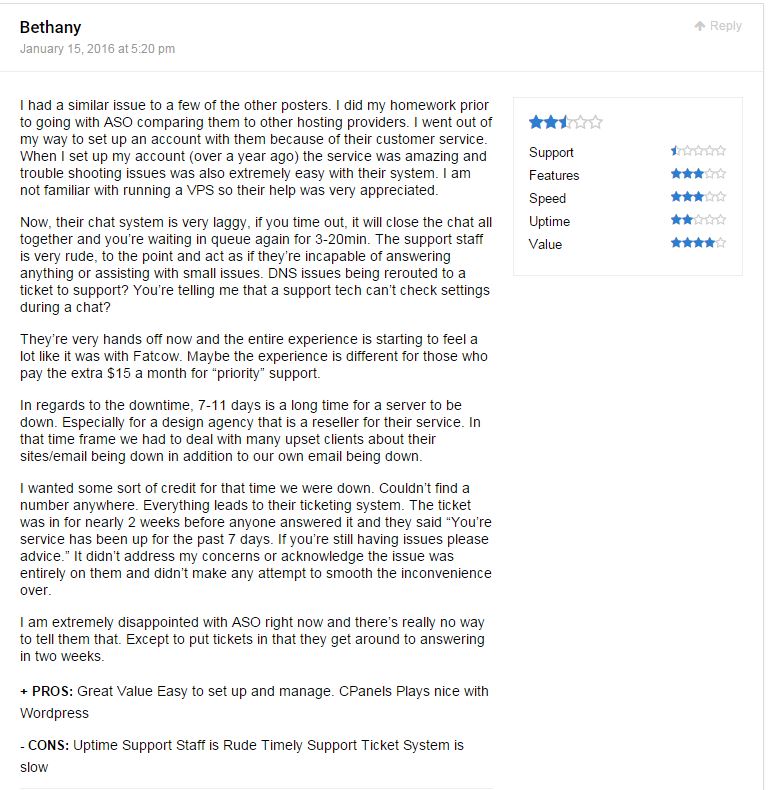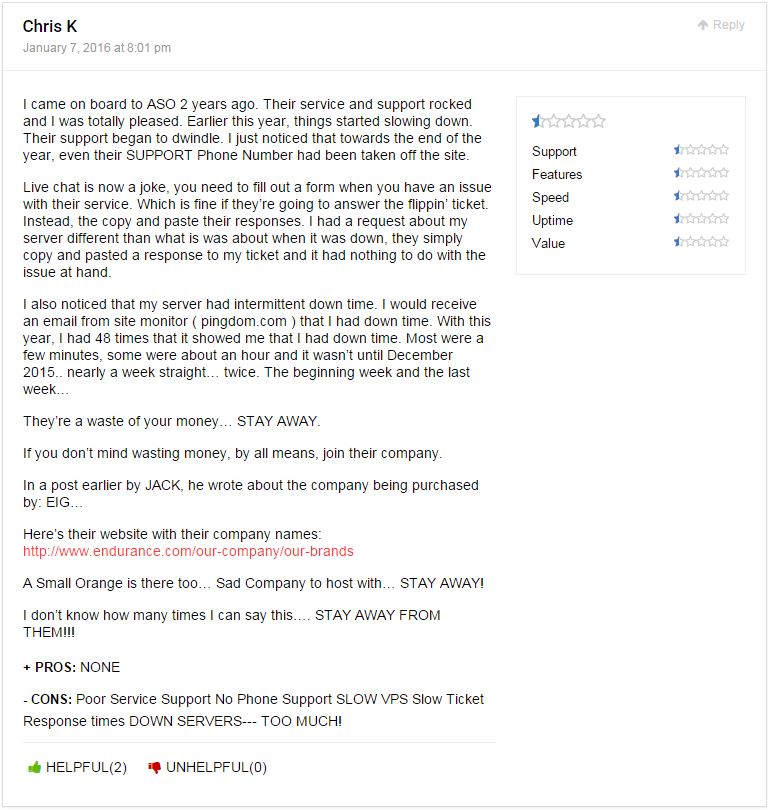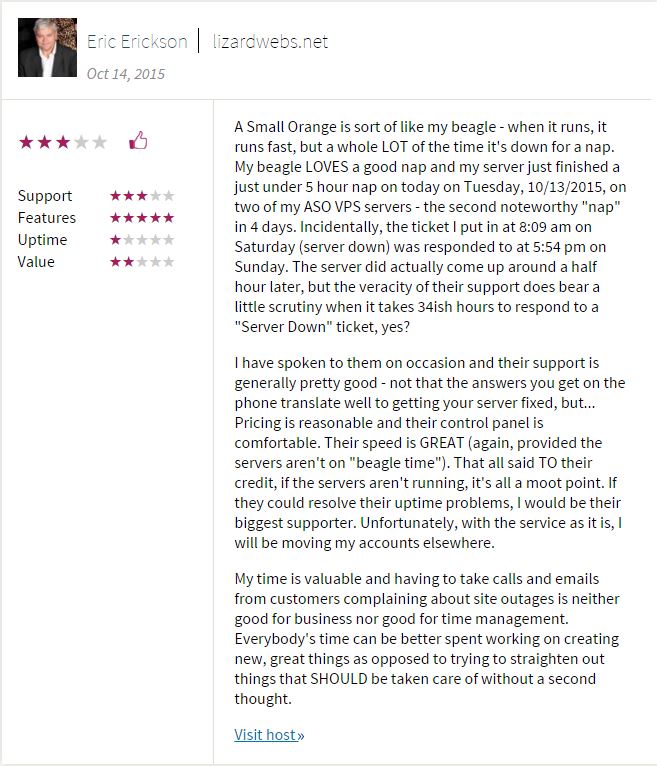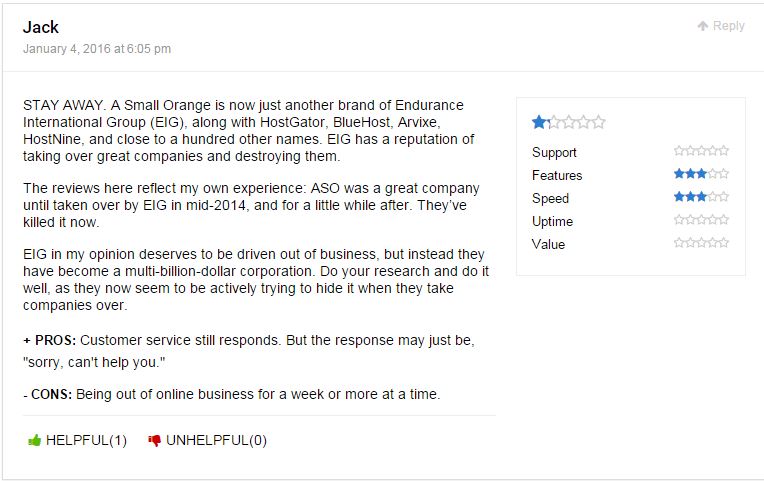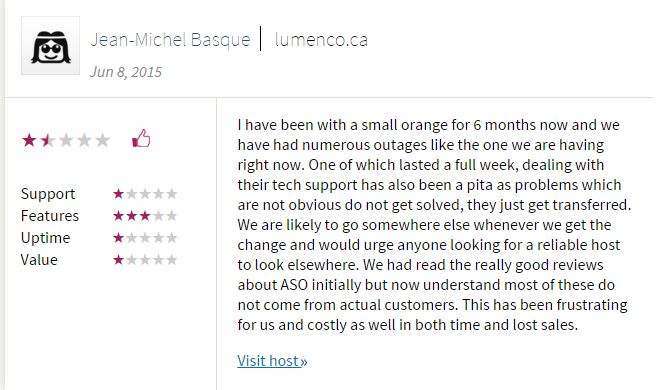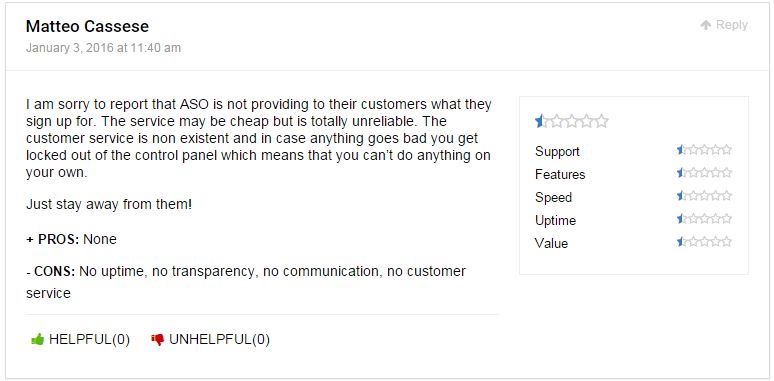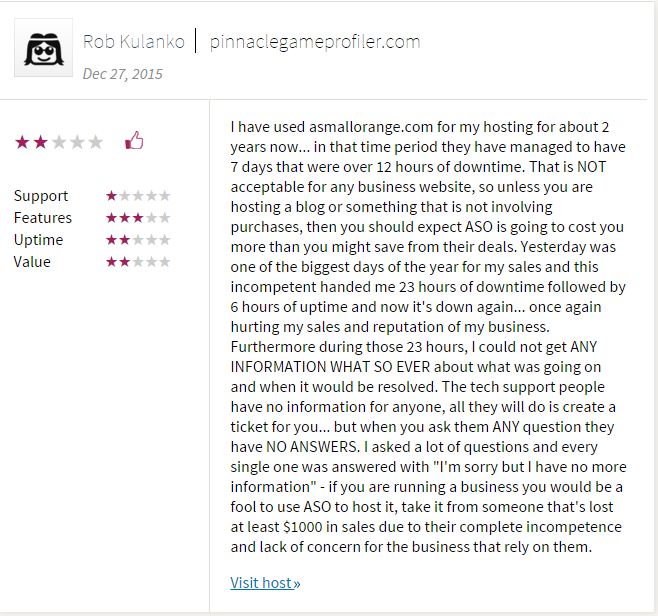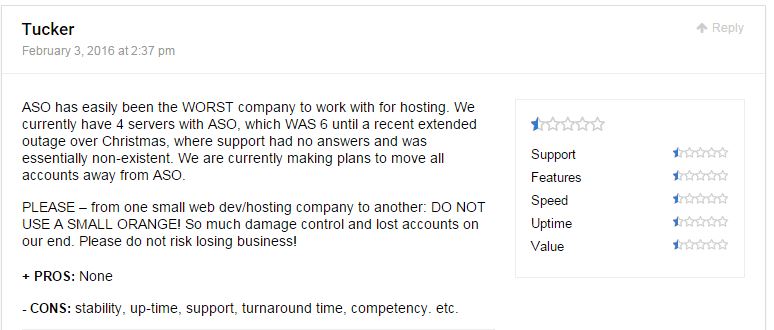 WHO IT IS FOR?
After reading all of the bad reviews listed on this page, I am not sure who would benefit from the services of ASO.  Many of the reviewers have reported that if you have a small blog that is not monetized and only gets about 1 to 10 readers a month and it is not that big of a deal if there is a large amount of downtime, then ASO might work for you.  Normally I would suggest that if you are a 501(c)3 organization you can try their small plan for free, because you will have nothing to lose, but if you are a 501(c)3 organization and much of your proceeds comes from online donations, then it will probably do more harm than good if there is significant downtime, because donors will take their money elsewhere if they are unable to donate.
TRAINING/TOOLS OVERVIEW
I have not read one way or the other if ASO has useful training and tools.  However, if you are unable to access your website to apply any of the training they have available, it is rather pointless I would say.
FINAL OPINION/VERDICT 
My final opinion I would say is to follow the recommendation of the many reviewers and stay away.  There seems to be many unhappy customers these days with A Small Orange.  I have a different solution for your web hosting and training needs.  It is called Wealthy Affiliate.
---