PRODUCT NAME: Interserver Web Hosting and VPS Plans

Overall Ranking:  8 out of 10
Price:  
$4.95 per month for Web Hosting
$6 per month for VPS (Virtual Private Server)
$59 per month for Dedicate Server
Use coupon code: DiscountCouponStephHill to receive your first month for $0.01 (one penny)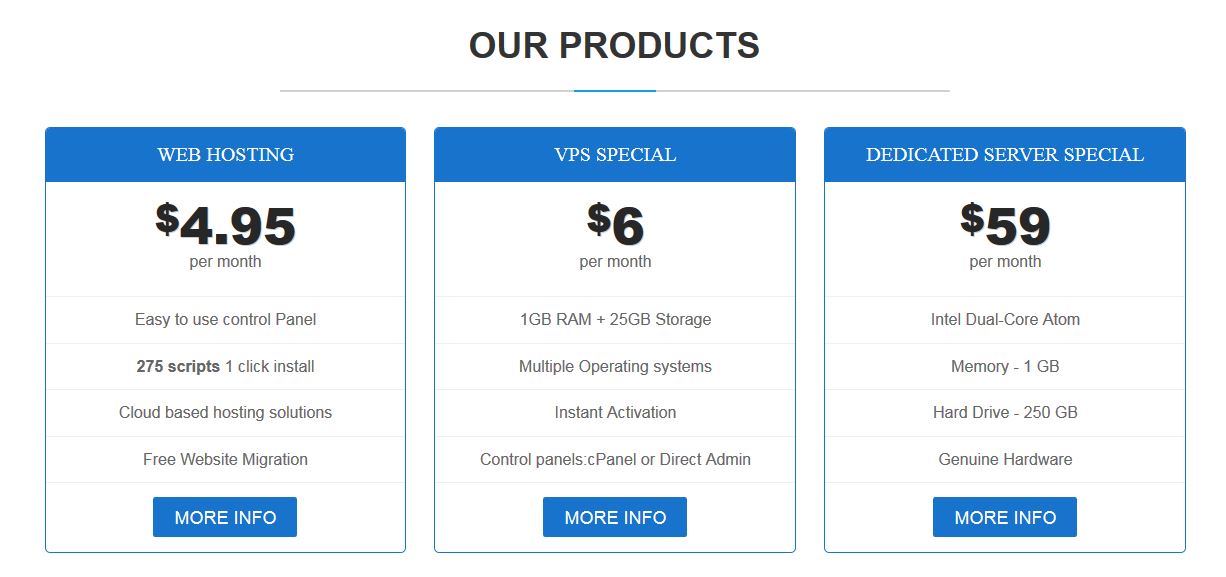 Owners: Mike Lavrik & John Quaglieri
Website:   www.interserver.net
MY VIDEO REVIEW OF INTERSERVER
INTRODUCTION 
Interserver has been around for 16 years and is headquartered in Secaucus, New Jersey in the USA.   Mike Lavrik and John Quaglieri were tech-savvy high school students when they founded InterServer.  They were two young boys who had a dream and made it a reality.  InterServer is a story about the hopes and dreams of two young teenagers who worked hard and dedicated themselves to see their dreams come true. Sixteen years later, both Mike and John are committed to their company by being on the site ensuring everything is running smoothly.   InterServer has its own data center and builds their own servers and their own Linux kernels.
Another thing that sets this web hosting apart from others is that they give back to their community by visiting and donating to a school for students with disabilities and autism and Teaching Kids to be Techy so that when the kids graduate they will be able to hold a job in the technology field.  Not too many companies give back to their community like this one.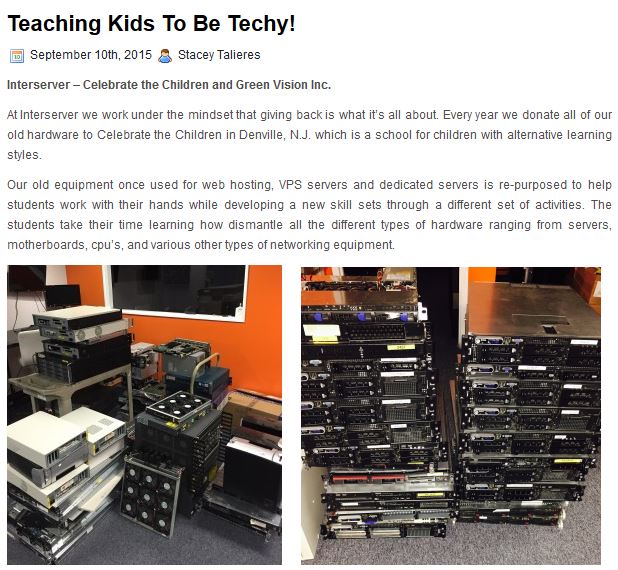 PROS / CONS
Pros
Low monthly competitive price
Practices in philanthropic policies of giving back to their community and serving disadvantaged individuals
Original owners are still active and present on the site
Offers dedicated server and VPS (Virtual Private Server)
Cloud-based solutions
Has its own data center
Builds their own servers and Linux kernels
Offers colocation solutions  to help ensure a scalable future-proof footprint. Colocation is a service provided within a data center facility such as the one offered at InterServer where some combination of power, cooling, physical security, fault-tolerant space and network bandwidth can be rented by retail customers.
24/7 Support
Unlimited Disk Space and Bandwidth
Unlimited Email Accounts
30 Day Money Back Guarantee
Cons
Although there is a noticeable link for LiveChat off their website, when I clicked on it, it did not work.  I was re-directed to the website's homepage without being connected to LiveChat.  Not sure if it was a browser issue on my computer, but if InterServer advertises a LiveChat it sound be available and always accessible.
Is only available in  USA, UK, Canada, Australia and Europe.  It is not available outside of those areas.
Did not see much in the way of training and tutorials.  You are required to have a good base knowledge of web hosting services.  However, the reviews seem to indicate customer service staff are friendly and are willing to answer even the basic questions.
WHO IT IS FOR?
InterServer can be for anyone has a website from the freelancer who is working online to the Fortune 500 company.  Depending on your need level, InterServer has you covered.
I could not find much in the way of training or tutorials.  Off the website under forum, I found a section called Tutorials which seems to be a list of tutorials submitted by various customers of InterServer and the issues seemed rather advanced, but not sure if there are any easy to follow tutorials for the beginners to website building, hosting and building an online business.  I also checked on YouTube but only saw advertisements such as the video I have above, but did not see a section on tutorials and how to use their cPanel interface or similar potential needs.
SUPPORT
I have done research on InterServer and every review I have read says the customer support is fabulous, very friendly and approachable.  I have not discovered one person or review that paints the customer support at InterServer in a negative light.
FINAL OPINION/VERDICT 
My final opinion/verdict regarding InterServer is that it seems to be one of the more highly recommended web hosting packages available.  I am concerned, however, by the seemingly lack of training and learning tools.  This website is intended for those who are new to building a website, search engine optimization and affiliate marketing and new to learning how to a build an online business.  Therefore, I weigh training and learning resources highly in my reviews, so I give InterServer an 8 instead of a 10.  The LiveChat not seemingly functional on their website was an issue as well.
If you were new to online business entrepreneurship like I was not that long ago, I suggest checking into Wealthy Affiliate which offers web hosting, training, technical support, community engagement, active LiveChat, and an incentive program.
---
Thank you for checking out my review today of InterServer. I would love to hear from my readers. Please leave a comment or question below and I will respond shortly.