PRODUCT NAME:    Excel Cash Flow
Overall Ranking: SCAM
Price:  $97 initially followed by numerous upsales, one after another
Owners:  Debbie Jones or Cami White (assuming they really exist which they probably do not)
Website: https://excelcashflows.com/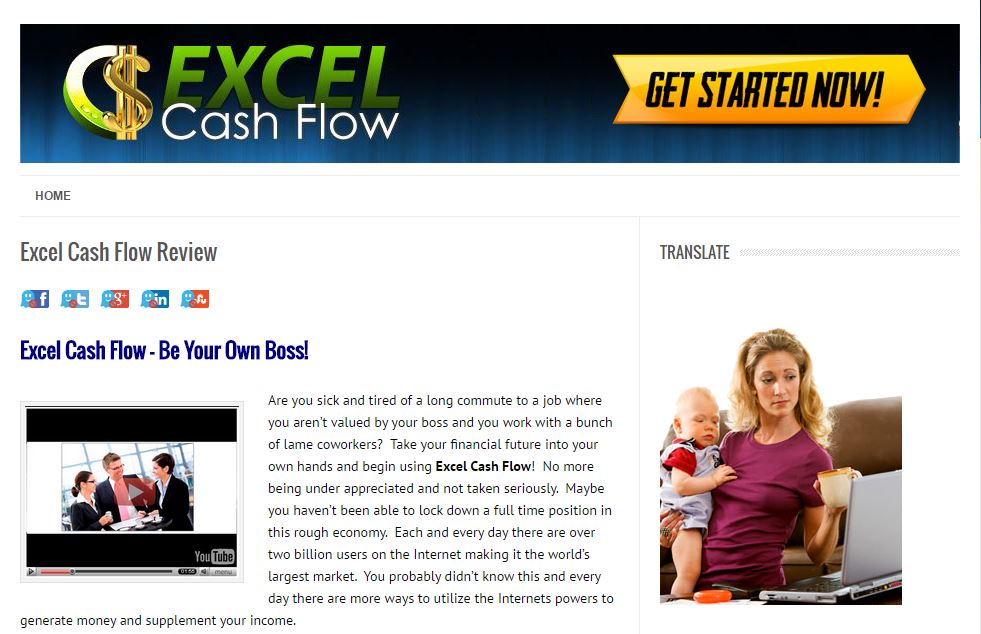 INTRODUCTION 
Excel Cash Flow is another link posting scam.  It is a fairly new program which began earlier this year and run supposedly by two women named Cami White and Debbie Jones, although I am not even sure if they truly exist.  They claim you can makes tons of money from home with very little training or time devoted.  They are indicating you can learn to be a Search Engine Agent which is someone whom they claim works from their home posting links for major corporations on websites.
Excel Cash Flow makes it sound like you are working from home for one company in a traditional job setting.  They claim companies are in high demand for people to work for them to post links to their websites, so they can generate traffic to their sites and earn profits.  The reality of this is that Google and other search engines are much more sophisticated today than they used to be and cheap strategies such as link posting is a thing of the past.  Nowadays, you need to have quality content and effective search engine optimization (SEO) to achieve high ranking in Google.
Excel Cash Flow tries to tell you that you get paid for every link you post.  They claim you get paid an average of $15.00 per link.  That is not true.  You would only get paid if someone actually clicked on your link and made a purchase.  And then you would receive a commission from the sale.  These links are called affiliate links and yes you can make money through affiliate marketing, but not in the way Excel Cash Flow is trying to convince you.   The techniques Excel Cash Flow are instructing their members on is called spamming and posting spam links on most sites will get you banned from posting on them.
Excel Cash Flow also neglects to tell you that it takes a long time to get paid from these companies. Sometimes it can take up to three months or more because of the fraud prevention system that many companies use.  In addition, there is typically a minimum threshold for pay out.
The honest answer when it comes to working online is that is takes much time and dedication.  You have to work hard and commit to a number of hours per week per month.  It will take months before you begin to see any real revenue.  It is like with building a brick-and-mortar business.  It will take time and yes, it will pay off eventually but it will not happen overnight.  Any company, such as Excel Cash Flow, that tries to tell you any different is a scam and not a legitimate online opportunity.
PROS & CONS
Pros
Cons
Misleading and incorrect information about the reality of working online
Costly to join and has constant upsales
No free trial or free membership options
Over-hyped (when something is overly hyped, it usually means it is a scam)
No real substance to what they are claiming
Making false promises and hiding the truth
WHO IS IT FOR?
This is for someone who is looking to work from home and spend more quality time with their family.  However, this is not the way to do it.  Please do not throw your money away on this type of scam.  There are other legitimate ways of working online full-time or part-time.
TRAINING/TOOLS OVERVIEW
Based on the initial false promises and inaccurate information provided in their their hyped up sales pitch, I am pretty certain that their training (what little there probably is) is mostly likely also inaccurate and teaches you the unethical and ineffective way of creating an online business.
SUPPORT
I can only imagine how horrible the support would be.  Once their members are suckered into joining and they begin to see the reality and truth behind this scam, they will undoubtedly be met with a brick wall when they try and reach out to the owners for support.  The way these types of scams work is that once they get your money, there is no support.
FINAL OPINION/VERDICT 
My final opinion is that Excel Cash Flow is a complete scam and to please do not waste your time and money. There are legitimate online opportunities out there.  My #1 recommendation is Wealthy Affiliate.

---
Please leave any comments you have below, especially if you have first hand experience with this company.  I would love to hear from you.