One of the first things many web designers forget to do when they are develop their sites is to think of how they are going to reach out and touch the hearts of their readers through their content. Too often I see websites which focus only on the bottom line – making money – but what is more important than that is connecting with your readership. Look into your heart and find that common ground which will help your readers relate to you.
I understand that we all have a goal in mind and that is to create an online residual income which will provide more financial freedom allowing you to spend time with the ones you love most in this world. But you want your readers to know the real and be able to understand you. Establish a trusting relationship with your readers.
Here are some of the things you should do when writing your articles and publishing your posts:
Write articles which help people in some way.
Think of a problem your readers might be struggling with and help them to find solutions.
Teach them something new, such as a tutorial, that they can use to improve their own lives and/or businesses.
Share your personal interests to help better relate to you
Show them that you are compassionate and can empathize with their situation.
For instance, you can read about my situation on my About Me page.  I recently lost my father. He passed away a little over six months ago. Being an only child, I was all my mother had left and so, I made arrangements to move from one part of the country to another region and started helping her with the various tasks required and be there for her through this emotional time. And quit frankly, she and I both need each other right now. I lost my father and she lost her husband. While initially it only appeared to be emotional Our family has always been close, so it has been rough and will continue to be for a long time.
Therefore, I was in need of a way to earn an income while staying at home. I have had prior experience in web design and knew I could easily pick it up again despite my skills being a little rusty. So I began searching online for legitimate ways of making money online and let me tell you, there are so many scams and unscrupulous companies and people out there such as the MLM-type companies and so many others. I did, however, find probably the one place which is a true legitimate online opportunity – Wealthy Affiliate. Personally, I think the name could easily may people think, "Oh, it is a get rich quick scheme!" But it is not. WA will tell you from the start success is possible, but not without much work and much dedication. You do have to put the hours and time and training in to develop your sites and learn how to monetize them. But eventually, after you begin achieving results, you will see success is possible.   The first site I created was a tribute site to my father.  I found it was healing as well as providing a way for all of his friends, family and fans to remember him by.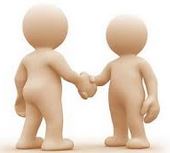 Part of that hard work I put into my online business comes from spending considerable amount of time helping and giving my time to others. WA works on the philosophy of paying it forward – you help people and they help others and so the chain continues. The more you give, the more you get back.
And that is how you connect to your readers. Tell them why you are doing what you are doing and what brought you there. Find ways to relate to people so they want to learn more about you and like you. The more you are able to connect to others, the more following and connections you will make.
---
Please feel free to leave a comment below.  I would love to hear your thoughts on the matter.  Thank you for taking the time to visit my website today.