Introduction to Google+
Google+ is a social networking experience that is rich is many different features. From instant, real-time updates to sharing a post from almost any of Google's various application, the features I will cover in this tutorial can make your Google+ experience all the more meaningful to your social media efforts.  If you are mew to web design and affiliate marketing, one of the first things you will learn is how important it is to connect with others online through social media marketing.  You can learn more from my tutorial on How to Create a Social Media Marketing Plan.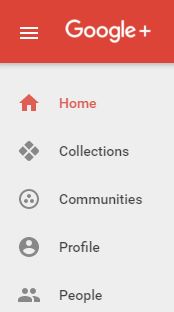 Some Cool Things to Think About with Google+
Unlike Facebook, there are no advertisements displayed over Google's social network platform, making the load time faster and overall keeping Google+ users from getting confused and frustrated with all of the ads.  I know this is one of my favorite things about Google+
Google+ can boost your SEO profile. You may have noticed that with some search terms, Google+ profiles and posts will come up before any other link from any other social media platform.
Google+ can improve your search ranking
Google+ was launched in June 2011 as an invite only service, then went public in September 2011. Just think of how much they have grown since then.
Google+ is the most male-oriented of the major social networks (68% male verse 32% female). Being a woman, this puts me in the minority but I am okay with that.
Follow the Steps
Follow along the steps outlined here to learn how to better use Google+
Adding Circles within Your Google+
You can create circles and add people to your Circles. Click on

People

on the left-hand column on the Google+ screen to access the Circles feature.
Click on the New Circle link along the top.
 
Name Your Circle and Click

Create

 
Real-Time Home Stream
Your home stream in Google+ is where you view posts that other people have shared. To populate your home stream with content that's most interesting to you and that involves your niche, follow some Collections or join some Communities to start seeing relevant content in your home stream. You might also see recommended content, which is popular content Google thinks you might like.
You can see your home stream by selecting

Home

in the Google+ menu on the left hand side.

You have the option to like, comment, re-share, mute or report any post you see in your home stream.
Follow and Create Collections in Google+
You can use Collections to organize posts based on your interests and niche. For example, you can follow a collection of posts about affiliate marketing. You can follow other people's Collections based on your niche, so your home stream includes content you wish to see. Collections help you share content with people you are a part of the same niche you are. When you make a Collection, you choose who can see that Collection. People can choose to follow specific Collections of yours, so no one sees posts that do not interest them.
To access Collections, click on

Collections

on the left hand side navigation menu.
You can create a collection by clicking on the Create A Collection button.

You may need to switch over to the Yours tab along the top.

 
To Create a Collection, after clicking on the Create a Collection button, you will see 

a form

to Create a Collection.

You can choose to make the collection public or within specific circles or you can create a custom list to share the collection with.

 
Follow and Create Communities
Just as with following and creating Collections on Google+, you can create and follow Communities.  The difference between Collections and Communities is that Collections have to do with content and Communities have to do with people.
To access Communities, click on the

Communities

link on the left-hand side:
You have the ability to view the recommended communities Google thinks you might like as well as communities you may already belong to.

If you have been invited to join any communities, you will see those invitations under Recommended.

You can either choose to accept or deny those invitations.

An example of what you might see is shown here to the right….

 
 Under

Yours

tab along the top, you have the option to

Create a Community

.

As you can see, Communities works similar to Collections.

 
Need More Tutorials?
You may be also benefit from my other tutorials to include:
More In-Depth Training
If you are looking for more in-depth training than what is available on this website, you can join Wealthy Affiliate and get access to step-by-step training designed for everyone in mind, whether your are a novice or a veteran. I also have additional tutorials within the Wealthy Affiliate platform that you can explore and the best thing is, I have made all of my additional tutorials available to you as a free member. You can explore and meet an incredibly massive community of new and veteran members and make new friends.  555