Define Pyramid Scheme
A pyramid scheme is an illegal hierarchical business model encouraging investors to recruit new members to the business model by requiring them to invest massive sums of money and then using the money from those new members to pay earlier investors. The base of the pyramid scheme consist of all the new members who provide the majority of the funds which are then given to the earlier investors who are above them, thus you have the pyramid scheme definition.
Herbalife Investigation
In March 2014, Herbalife, a Los Angeles-based nutritional supplement company, became the newest likely pyramid scheme to be exposed when an official investigation by the United States FTC (Federal Trade Commission) was launched. The investigation was began when billionaire hedge fund manager Bill Ackman accused Herbalife of misleading the distributors, selling commodity products at excessively overinflated prices and a huge misrepresentation of sales figures.
Sources indicate that the government will most likely will not shut down Herbalife, but instead sanction them with fines up to $50 million dollars for false claims of excessive income to their new investors while refusing to provide documentation to support their claims, unethical lead generations, and false product claims. If nothing else, Herbalife will most likely have to pay for their sins of the past. The FTC is not the only agency that is investigating Herbalife for operating under a pyramid scheme. The Federal Bureau Investigation (FBI) is also investigating Herbalife as well as other entities.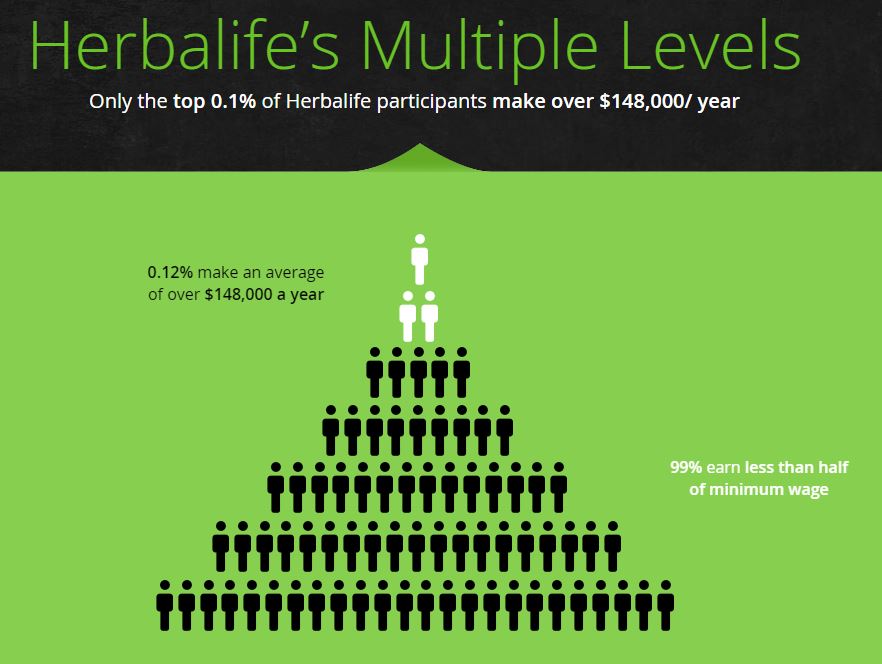 The Scheme
As the name implies, the pyramid scheme begins with one person at the top of the apex of the pyramid who recruits people into his scheme requiring them to invest a large sum of money and they in turn have to recruit additional people who also have to invest an excessive amount of money. Then, in order to try and keep earlier investors pacified and convinced of the program's value, funds from the new investors are given to those earlier investors.
Collapse of the Pyramid Scheme
Eventually the pyramid scheme will collapse because eventually you will run out of people who will invest. Once that happens, the pyramid will cease to exist.
Similar to Ponzi Scheme
A pyramid scheme is similar to a ponzi scheme. Named after the crook Charles Ponzi, a ponzi scheme is different from a pyramid scheme in that a ponzi scheme is not hierarchical. Instead, with a ponzi scheme a single person collects investments from others and does not necessarily tell them how revenue will be generated.
Looking for a Legitimate Opportunity to Make Money?
If you are interested in discovering a legitimate online opportunity, check out my number one recommendation, Wealthy Affiliate.  Wealthy Affiliate is an open education project with a free starter membership, giving you the option to upgrade to premium if and when you are ready.  Plus, the premium membership is one of the lowest membership rates out there for website design and affiliate marketing learning platform.  Wealthy Affiliate is not a get-rich-quick scam.  I am an Ambassador at Wealthy Affiliate and I can attest it is a honest and trust-worthy place to learn the opportunities for making a full-time or part-time living online.