PRODUCT NAME:  Affiliate Blogger Pro / Rosalind Gardner 
Overall Ranking:  7 out of 10
Price:   $27 / Month  – no free trial period 
Owners:    Rosalind Gardner 
Website:   https://affiliatebloggerpro.com/ 
INTRODUCTION
Affiliate Blogger Pro Community is a an affiliate marketing training platform run by Rosalind Gardner who has been in the affiliate marketing business since 1998 before affiliate marketing become known.  She started working as an air traffic controller but left that career behind to pursue affiliate marketing.  She has earned herself the reputation of "Queen of Affiliate Marketing".   Affiliate Blogger Pro promotes itself by saying you can learn from the Queen of Affiliate Marketing.  Rosalind Gardner is no doubt very successful.  She has written a popular book titled Successful Affiliate Handbook which has received high marks from industry leaders such as Brain Marcus with Google Affiliate Network.  It is over 250 pages with the latest edition being released a few months ago on April 26, 2015 so it is obviously up-to-date.
As with all of my product reviews, I provide thorough and well researched information so that you can make the best decision for yourself, because only you know what will work for you.  I have to say that I am impressed with Rosalind Gardner's credentials and amount of free information that she provides through her blog.  You can tell she is truly passionate about teaching others what she has learned in the numerous years she has been learning about affiliate marketing.  She is very honest with you in her description of how to be successful at affiliate marketing.  She tells you upfront that this is not a get-rich-quick scheme like other scams will try and sell you on such as Excel Cash Flow, one the largest scams out there.  Rosalind is sincere and gives you a honest  down-to-earth approach.  Rosalind has a blog called Net Profits Today where she shares some incredible insights into Affiliate Marketing.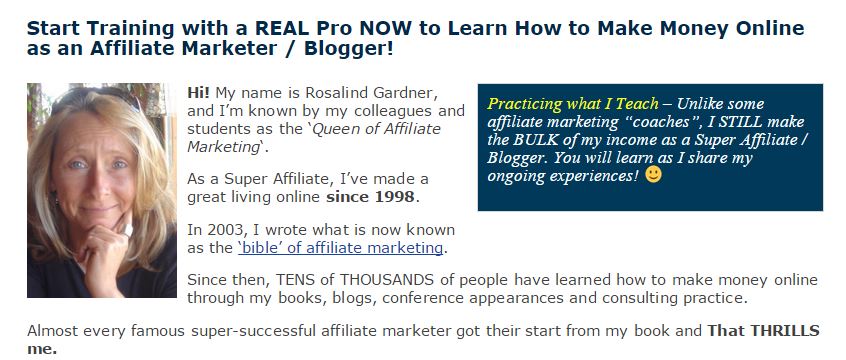 PROS/CONS
Pros
Rosalind is honest and down-to-earth and tells you upfront that this is not a get-rich-quick scheme.  Affiliate marketing takes much work and patience and Rosalind tells you this right from the get-go
The price is inexpensive – only $27/month – that is cheaper than the majority of other programs out there including my #1 recommendation.
There are NO upsales and this is a HUGE benefit to this program, because nearly all of the affiliate marketing training platforms out there have one upsales after another.
The training is step-by-step
There are 10 Module Training Programs with over 200 tutorials with practical tips
Almost 200 video tutorials
Has an active community forum
The lessons can be printed
Has a generous affiliate program offering a 50% commission
There are quizzes at the end of each tutorial to test your knowledge – I don't know of any other program that does that, although, I get text anxiety so I would probably not do well even though I know the material. 🙂
Cons
There is no free trial period – this is a BIGGIE for me!! I feel that if someone believes strong enough in their program they should offer a free  trial period to see if it is right for you.  My #1 recommendation does offer a free starter membership allowing you to remain a starter member as long as you want without going premium.  You only go premium when and if you are ready.  You will not be asked for a credit card unless you choice the premium membership.  Plus, you get two free websites:
No Live Chat
No free websites included in the membership
Web hosting is not included in the membership
No free keyword research tool to help with SEO
Technical support is only available via email.  There is no number you can call to get immediate help.
WHO IT IS FOR?
Affiliate Blogger Pro by Rosalind is anyone who is brand new to affiliate marketing.  Once you learn the basic ropes, however, of affiliate marketing you may need to look elsewhere for additional support and training.   I definitely recommend it for newbies only.
TRAINING/TOOLS OVERVIEW
There are both textual and video tutorials available in addition to printable lessons.  You will be walked step-by-step with a community of other members who will help you out.  I have free both textual and video computer tutorials on this site you can check out to include basics of HTML and a Beginner's Guide to WordPress.   The image below is from the squeeze page pf Affiliate Blogger Pro and lists everything you get with your $27 monthly membership.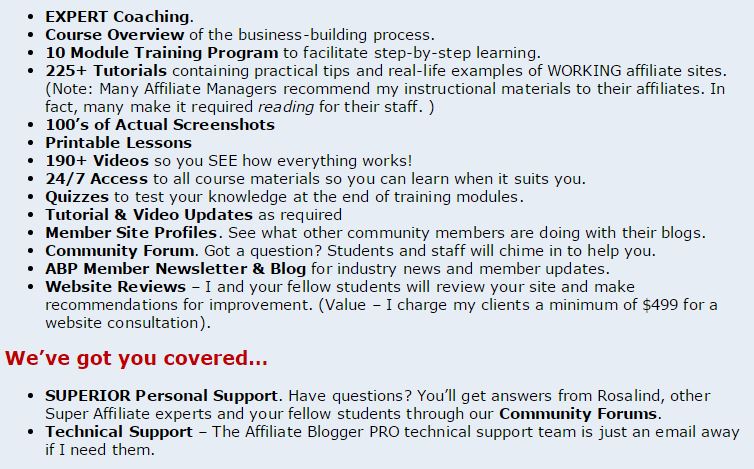 SUPPORT
Technical support is available through email only.  There is no live chat nor a phone number to call should you need immediate assistance.
FINAL OPINION/VERDICT 
I think the price is reasonable enough for Affiliate Blogger Pro.  It is completely wrong to try and gauge you for as much as they get out of you and Affiliate Blogger Pro definitely does not do this.  I would say that Affiliate Blogger Pro is completely legit.  However, I think you could get a bigger bang for your buck by going with my #1 recommendation – Wealthy Affiliate, because although WA is a little more expensive, the amount of training you get not just from the owners but from the community members too is more in depth and covers more territory.   In addition, with Wealthy Affiliate, web hosting is included in the membership as well as two free websites.  With Affiliate Blogger Pro you will need to  review my list of web hosting companies to decide which one is best for you and factor that in your monthly business building budget.  You will not get ripped off by going with Affiliate Blogger Pro, but there is a better choice.  See my chart below:
---
I know on my chart that I give Affiliate Blogger Pro a 7 despite there being only 5 check marks, but I give additional points to Rosalind Gardner's system because she really is sincere about helping others become successful and is running a completely legitimate program which is more than I can say for so many programs out there these days.
 Thank you for checking out my review today of Affiliate Blogger Pro by Rosalind Gardner. I would love to hear from my readers. Please leave a comment or question below and I will respond shortly.