PRODUCT NAME:  NameCheap

Overall Ranking: 60 out of 100
Price:   $3.98 – $12.88 per year for domain registration / Additional cost for hosting: $16.97 per month approx. / Additional cost for SSL Certificates: $7.95 per year and on up / Possible to also purchase dedicated servers beginning at $89 per month
Owners:  Richard Kirkendall
Website: www.NameCheap.com


INTRODUCTION
NameCheap is a domain registration and web hosting company founded in 2000 based out of Los Angeles, California.  Richard Kirkendall founded the company and is still the CEO today.
In 2014, NameCheap was surveyed to be  Best Domain Registrar by it's users.  However, when I did further research I discovered that NameCheap was offering discounts and bribes on Facebook to their users should they win.  I found ads on Facebook and other social media from NameCheap advertising $0.99 domain registration should they win the Best Domain Registrar for 2014.  I personally see some ethical issues with that type of business practice.  You want people to vote on their experience and customer satisfaction and not because of a bribe.
PROS / CONS
Pros
It is well known and has gained popularity over the years
Domain Registration is rated the highest among it's users
Competitive prices on domain registration
 Been around for 15 years at the writing of this review
Has a cPanel control panel interface
Choice of shared hosting or reseller hosting
25GB Disk Space on either shared or reseller hosting
Has free email hosting on the Shared Hosting Plan
Free 1 year WhoIs Guard with purchase of .COM domain
Cons
 A short 14-day Money Back Guarantee (most companies offer at least 30 day money back guarantee)
Risk Management team is consistently rated very poorly
No email or telephone support.  Support is only available via Live Chat or Ticket Submission
Has been reported to have frequent down times
The user-interface is dated, not very modern and cumbersome to use.
Many mixed reviews out there
Has expensive renewal fees (nearly doubling in some cases)
NameCheap is for people who want a domain registration and/or a hosting package.  I have used them for both and my opinion is that they are great with inexpensive domain registration, but not so good with the hosting aspect. My experience seems to be common among all the reviews out there on NameCheap.
This is for the person who is an online entrepreneur, a small business owner, an individual who wants a personal website or similar.  NameCheap has reported to have over 800,00 clients.
TRAINING/TOOLS OVERVIEW
There does not seem to be much in the way of training and tools through the NameCheap website.  I searched the website and there is nothing available.  However, I went to YouTube and I did find a YouTube NameCheap Channel.
Below is one of the videos from YouTube on How to Register Private Nameservers for your Domain. Many of the videos seem to do with the email server on NameCheap.  I would think that would be one of the more straight-forward functions of NameCheap and instead I think videos on How to Build a Website on NameCheap or Introduction to NameCheap or any number of more common training issues that might be needed.
SUPPORT
I personally have never had to use NameCheap's customer support, but there seems to be as many bad reviews as there are good customer service support reviews.   When requesting a refund, the stories seem to be consistent in that NameCheap gave them a credit, but refused to give people their money back despite multiple requests made.  Without phone support and only LiveChat, it seems difficult communicating with them regarding issuing refunds.
I researched NameCheap on the Better Business Burearu (BBB) site and it has a terrible rating.  On a scale from A+ to F, they have an F rating, which stands for failing. They are not registered with BBB and you would think if a company cares about their reputation and image, registering for BBB would be a priority.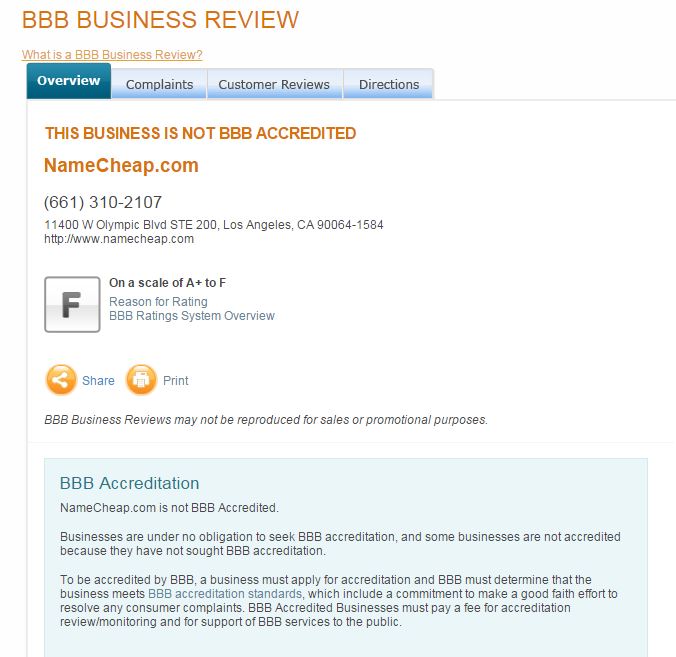 There is no community support or an online forum to connect with other customers regarding questions or problems which need addressing. People are very sociable by nature and giving them a place to chat online and bounce ideas off one another can lead to customer loyalty and trust.  NameCheap does not offer this feature much like Wealthy Affiliate does.

FINAL OPINION/VERDICT 
Based on my personal experience and other reviews I have read about NameCheap, my recommendation is to use them for domain registration only, and not for hosting services.  You have other options for web hosting which I can personally recommend.  Wealthy Affiliate is a robust hosting and community support project which teaches you how to build a website, how to start an online affiliate marketing business from the comfort of your home, a massive friendly community filled with other members ready to help you 24/7 and the owners are very visible and respond quickly to inquiries.   See the chart below and compare the different features Wealthy Affiliate as compared to NameCheap.
---
Please leave feel to leave comments below and I will respond shortly.
Please review my affiliate disclaimer.