15 Ways to Improve Motivation & Concentration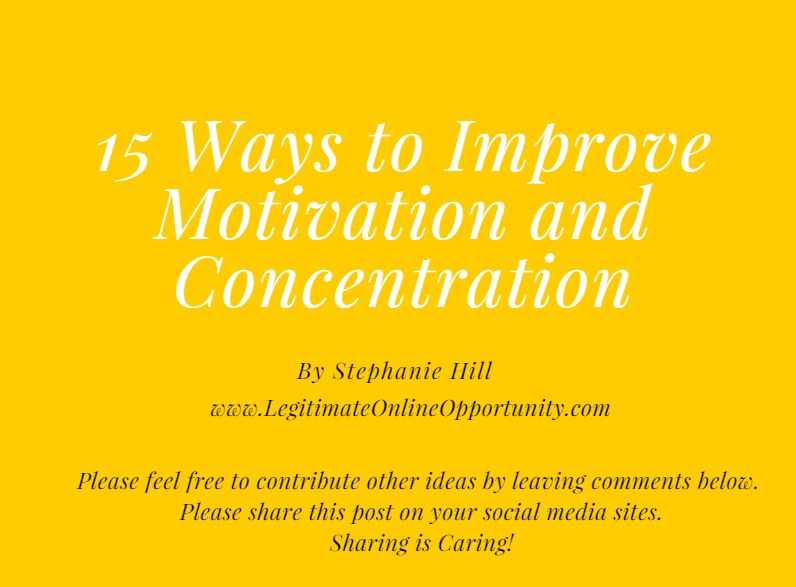 Are you a college student is finding it hard to study?  Are you self-employed?  Maybe you are an entrepreneur and are you finding it hard to stay motivated and full of concentration.  I know how hard it can be focus and concentrate on your work. I don't know about you, but I tend to get easily distracted and then I forget something important that I needed to do.  If this is you as well and I suspect it is for many of my readers, try following these simple tips for self motivation.
Make certain you have a good environment to work in. Check lighting, noise, comfort of furniture and other important things like height of computer. Test it out in three or four places to determine which spot works best for you.
Check to see you have everything you need to include resources such as notebooks and pens you need before you begin working or studying.  I know many of us  have different paths we are pursuing so whatever your journey is, make sure you have everything.
Choose a regular time to work each day so that you set a pattern for yourself. This is something I am still working. I have to take into account, for example, sleeping schedules of other family members and find an office space where I can late into the night.  If you have roommates this too can be a challenge I know.
Have a special notepad for jotting down extraneous thoughts that enter you mind while you are working.  You might be a parent and need to remember to go pick up junior from school. This will help create a balance in your life so you are not spending too much time with unimportant things that can wait.
Use a symbol for working on your studies or work. Choose an item, like a hat, that you put on when, and only when, you are working or an item that you place on your desk as a reminder that it is time to crack down.
Make sure to relax your body before working. This is one in which I am still working on.
Give yourself a reason to work such as an image that will motivate you.   If you are a single mother for instance, you may have a goal in mind that involves providing for your family.  I am a single mom and therefore, I understand the need to work from home to be there for my children.   Click to learn more about working from home for single mothers.
Do some alternate nostril breathing before you begin work.
Imagine that your brain is filled with the subject that you are going to work and that there is no room for anything else. See that the focus on your mind is blocked from that subject.
Take two minutes before reading or studying your notes to jot down everything you expect to come up in the text that you are about to read. This will help you when you are reading other articles. You will be able to pick up patterns easier.  This will help you in the learning process.
Break assignments or tasks into small step-by-step pieces. This helps me if I know I have a big project in front of me which will require much time. This happened to be me recently when there was a massive problem with one of my websites and I was not sure how to tackle the problem and I knew it required researched, I broke it down into smaller sub-tasks.
Analyze your work ethics to make sure that your problem is one of concentration and not making excuses for not getting on the computer today.  We all have things that we would rather be doing, but there is a time for work and there is a time for play.
Develop a "contract" for a things that you might be putting off.  For example, "For every 10 articles or pages I read within my niche, I can listen to music for 10 minutes", or "If I don't read 10 blogs within my niche, I must wear mismatched socks tomorrow".  I know, it sounds goofy, but you get the idea.
If you are having problems figuring out a problem, never underestimate the power of your trusted friends and communities you are associated with. There are so many people who will go out of their way to help you if you know where to find them.  For example, I belong to two different communities in which I reach out to help with – Wealthy Affiliate and Internet Business Owners Toolbox (IBOT).
My last one is always be approachable and social-able to your fellow classmates or colleagues. You can squeeze in sometime to exchange ideas with other members of your respective community, because hearing what others are thinking will spark ideas.
Doing all of these suggestions will help you Get the Lifestyle You Deserve.
___________________________________________________________________________
I know there are many other ideas out there and I would love to hear them.  Please leave them in the comments below, so we can all benefit from your ideas and knowledge. Thank you for reading my post today.  I hope you found it helpful.