Introduction: Reason for Keyword Research
If you are building a blog or a website and need to generate traffic to your site, you will need to do what is known as Keyword Research.  A keyword is a word or a phrase that your blog post or webpage is indexed through Google by.  When you go to Google and enter a specific string of words or a phrase such as what is shown below you are entering keywords.

Whenever users enter keywords into Google, they become indexed into Google.  Any website having that specific keyword phrase will be ranked in the search listing generated from your search.  When designing a blog or building a website, your main goal is to have a competitive rank within the search results.  The problem is you need to know what type of keyword phrases relative to your blog or website a user might enter in Google.  If you are able to have an idea of the various keywords searched in Google, you can better focus your blog postings on specific keywords which will give you higher rankings and thus, generate more traffic to your site.  This process is referred to search engine optimization.
FREE Keyword Tool: Jaaxy
There are many techniques and tools that are available to assist you with keyword research.  Some of them come with a cost.  However, there are a few high quality keyword tools that are free to use which will help you generate those keyword phrases which you can use in your blogs that will enable you to get ranked in Google. One FREE tool which you can use is called Jaaxy. Try searching in Jaaxy using the search box below.

Jaaxy is a comprehensive tool which provides multiple ways to conduct Keyword Research.  You can click on Keywords where you enter possible keyword phrases you think someone visiting your blog might use in searching for information shared on your blog.  On the Keywords screen you will see empty fields where you can enter possible keyword searches which would be relevant for your blog or website.

Test it out now by entering a keyword phrase and click Find Keywords.  A long list of other possible relevant phrases will be generated.  To demonstrate, I entered "how to sell military books" because that is relevant to a niche website I am developing. Using by example, your screen will look like the following:
As you can see there are many rows of numbers and columns next to each keyword phrase.  They are as follows:
Avg:  The average number of searches the keyword receives per month
Traffic: Visits to your website if you achieve first page rankings in the search engines
QSR: Quoted Search Results – the number of competing websites ranked in Google for this exact keyword
KQI: Keyword Quality Indicator – Green is great, Yellow is Ok and Red is Poor.
SEO: A scored based on traffic and competition , the higher the score, the more likely you will rank for this keyword on the first page. Score = 1 to 100, higher = better)
Domain: Available only as an upgrade
Site Rank 
There are many features with Jaaxy which are available for FREE.  One of the other features is Site Rank  which enables you to see what position in a Google search listing your particular keyword falls under for your specific URL.  This will fluctuate with time, either increasing or decreasing in rank. Click on Site Rank and notice the field for Keyword phrase and your URL (website address).   Enter your best chosen keyword phrase along with your URL and click Search.

Once you enter your keyword phrase and URL, click the Search button.   Below is an example I used for one of my other websites.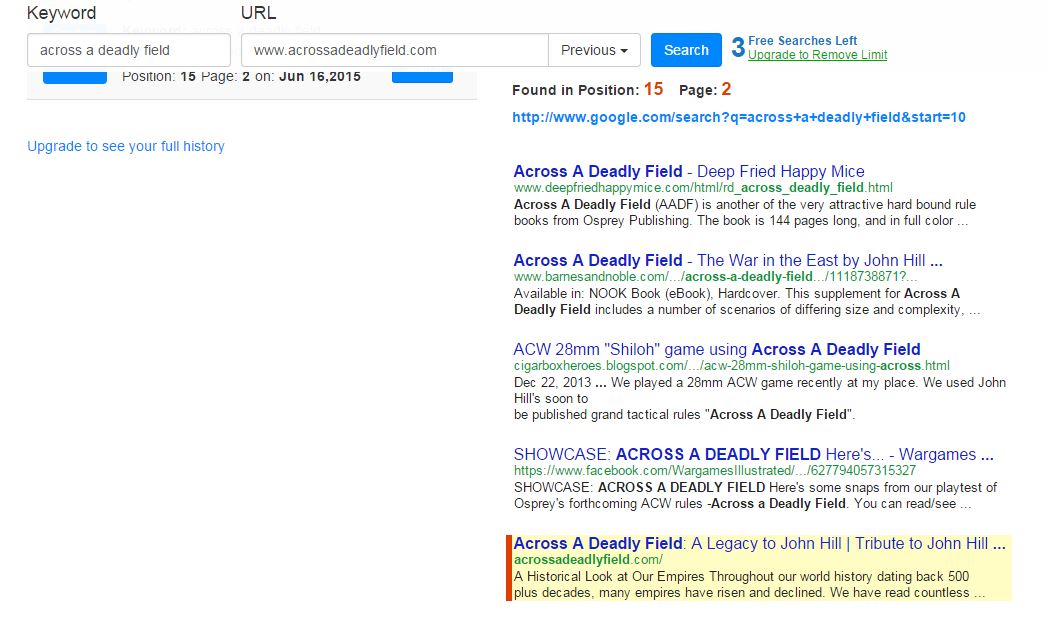 As you can see in the example above, you are provided the exact position and page number for which your keyword phrase and URL appear in Google. My actual URL (www.acrossadeadlyfield.com) is highlighted in yellow at the bottom.  If I click off of Site Rank  and click back to it, I am given the Search History as shown below.

Alphabet Soup in Jaaxy 
Within Jaaxy, you can utilize a common keyword research technique known as Alphabet Soup.  This is explained in more between on the search engine optimization page.  Click on the Alphabet Soup link and you will see the following screen.  You will need to be on the Jaaxy homepage.

Test it out by entering a keyword phrase and clicking on the

 button.
Training in Jaaxy 
With all of the features and tools available in Jaaxy with the FREE option, it can be overwhelming.  Therefore, you can access the training page which has numerous videos you can watch which help explain.  This is especially helpful when you are new to search engine optimization, keyword research and techniques to build a better website.
Watch this one hour video from Wealthy Affiliate on Using Jaaxy to its fullest.

Owners of Jaaxy: Kyle & Carson
The owners of Jaaxy are the same owners of Wealthy Affiliate Open Education Project, a place where you can learn to build a website and create an online business in affiliate marketing.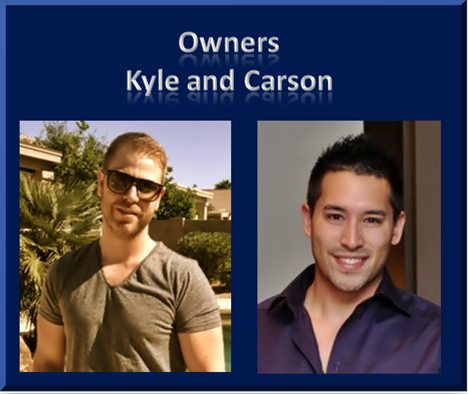 Comparing Jaaxy with Other Keyword Research Tools
There are many keyword research tools out there and it can be rather confusing and overwhelming to know which one will give you the more accurate and helpful advice.   You need a keyword research tool which offers not only keyword search tools, but allows you to see your site rank and uses effective search engine optimization tools such as alphabet soup.  You also need training videos and step-by-step instructions on how to get the most of our FREE Jaaxy membership. Watch the video below to discover how Jaaxy compares with other keyword research tools.
Conclusion: Try Jaaxy and Discover for Yourself
You are under no obligation with the FREE options.  No credit card is required.  All you will be asked is for an email address.
---
 Please feel free to leave a comment or question below and I will reply shortly.
Please see my affiliate disclaimer.