Wanting a Seasonal Job?
Are you sitting around thinking it would be nice to have some extra cash this holiday season? Are you wondering if it is too late to get a season job? The answer is  Not at all!  Seasonal jobs are excellent ways to earn extra money for the upcoming holidays.  It may also lead to a full-time permanent positions if that is also something you desire.   Although several businesses started hiring seasonal workers last month or perhaps as early as October, many companies are still looking to bring on extra employees in December, because as we get closer to Christmas, there will be more and more shoppers and thus, stores will need more help than ever as Christmas draws nearer.  Think about all of those shoppers who wait until two days before Christmas to start their Christmas shopping!  Millions of people are guilty of that, maybe even you.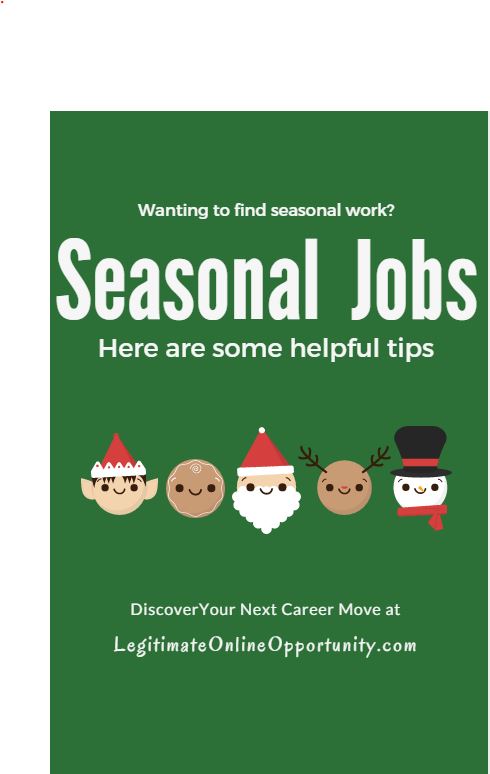 Also, in January is when stores will need help with all of those returns and exchanges.  People will be coming into the stores by the truck loads to exchange that ugly outfit they would not be caught dead in.
With our economy on the mend, the market for seasonal jobs is better this year than in the past, so if you are still unsure about whether it is worth your time to try and get a seasonal job, rest assure it is.  But please don't assume getting seasonal work will be a cinch.  There will be competition and you need to stand out among the crowd of other Holiday job seekers.   Read my five tips for finding a season job.
I. Start Your Online Research
Get on the Internet and check out companies which you think would be ideal to work for.  If for instance, you would like to work for Target, because you like their housewares, go the company's website and see if they have any seasonal openings in your local area.  Do not forget the online job boards, such as Craig's List, Monster, CareerBuilder and Indeed. You may know of some others.  Check your local newspaper for classifieds too.
II. Use Social Media to Get the Word Out
There is much to be said about the power of Facebook and Twitter. Get the word out that you on Facebook that you are wanting a seasonal job. Post on Facebook and ask that your friends share and like your post so that people who know someone who is looking for some extra employees  can connect with you and help you get that seasonal job.  Many wonderful things have happened as a result of social media outreaching.
III. Be Super Flexible
Most companies who are hiring for seasonal work are looking for people who can work when their regular staff cannot, so be super flexible.  This includes weekends and nights.  This may include working until midnight on Christmas Even because of the millions of last minute Christmas shoppers are out there. You may be one of them yourself!   The more flexible you are, the more likely you will be chosen.
IV. Act Like Your Applying for a Full-Time Permanent Job
Even if you are only searching for a temporary job to get you through the holidays, act as though you are applying for a full-time permanent job. Often times companies plan on keeping the really good employees on after the holiday season is over.  Never burn your bridges and keep your mind open to new possibilities.  Some reasons why you may want to stay on after the holiday season may include the fact you really enjoy working at the store. Maybe you really enjoy getting that employee discount. Maybe you have discovered you truly have a knack for selling retail.
If being considered for full-time employment following the holiday season sounds like a good idea to you, then be sure to take on added responsibility around the store and always be willing to do extra shifts.  This will show the employer just how amenable you are.  The more flexible you are, the more likely you will be chosen to stay on after the holidays.
V. Be Persistent
Even if the hiring manager tells you that all positions for seasonal work have been filled, check back in a week or so, because chances are the closer Christmas gets, the more help the companies will need.   Not to mention, there will always be those seasonal workers whom were hired and did not work out or they quit because something better came along.  Do not forget to send out thank you emails and letters and try to remember the names of the individuals who intereviewed you so you can personally address them in your letters.
VI. Go Super Prepared for the Interview
When job hunting you should always come to the interview fully prepared.  Do your research on the company by checking out their website address and read any relevant news story they are featuring on their site.  One of my biggest pieces of advice is to dress for success.  Don't show up to the interview wearing holey blue jeans.  Give the hiring manager a firm handshake and come prepared with at least two good questions to ask at the end of the interview.  A couple questions I often ask at the conclusion of a job interview are:
What do you like about working here?
What do you think would be the most challenging aspect of this job?
What do you think makes this company special?
VII. Employee Discounts are Nice, But…….
One more thing I wish to mention – if the one reason who are wanting a seasonal job is for the employee discount, keep that to yourself and do not let the person who is interviewing you know that, because they want to see that you are truly interested in helping them through the holiday rush.   Show your sincerity and humbleness.  Don't walk in to the interview asking the following:
How much of a discount do I get by working here?
By asking the above question during your job interview is basically asking the employer what's in it for you.
Alternatives to Traditional Jobs
If after thinking about everything there is to do to land a traditional job, you feel that you rather pursue other employment options, there are other ways to make money which do not require the following:
Buying nice clothes so you can dress for success
Paying for auto maintenance and repair work
Going to lengthy and stressful job interviews
Writing countless thank you letters and emails to people whose name you may or may not remember
Pay for gasoline expenses and bus passes for commutting
Having to answer to other people about your accountability and meeting deadlines
For other employment options, visit my article on making 2016 your year for financial success.  Some of the other options for achieving a steady paycheck which has the potential to increase over time with hard work include affiliate marketing.
Please Leave Comments
I sincerely hope you have found this article to be helpful. As I always say at the end of each of my articles, if you have any questions or wish to comment, please always feel free to leave them and I will be more than happy to return all inquiries.